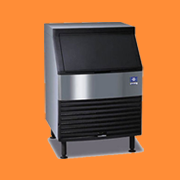 The refrigeration service department within Artic Refrigeration Service, Inc. plays an integral role in the success of their commercial customers who rely upon our expert technical staff who can install, service, and repair most brands and models of commercial grade ice making equipment products. In addition, our knowledgeable sales team stands ready to advise customers with respect to the many innovations and energy-saving features available in today's new ice machines and ice maker models.
Our professional refrigeration equipment service technicians provide commercial clients with professional and affordable ice maker and ice machine maintenance and repair services 24 hours a day, 7 days a week. Our wide-ranging expertise across equipment brands and manufacturers makes us a preferred solution provider for restaurants, hotels, motels, C-stores, cocktail bars, supermarkets, food manufacturers, educational institutions and health care facilities that consume high volumes of ice.
To request a quote for a commercial ice maker, part or service, or if you simply need some additional information about your current ice machine and how to best maintain it, call us today and schedule an appointment to talk with one of our expert consultants or technicians.
Manitowoc
Ice-O-Matic
Hoshizaki