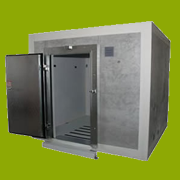 Artic Refrigeration Service, Inc. is a full-service interior climate control technology firm that specializes in all forms of cooling and refrigeration systems in use in the home and commercial settings. We provide a diverse range of commercial refrigeration services including walk-in cooler and freezer repair services to the food and beverage industry. Our trained staff of professional refrigeration technicians can quickly help you get your walk-in refrigeration system up and running again. We perform repairs on refrigeration systems ranging in size from small step-in coolers to warehouse capacity freezers.
At Artic Refrigeration Service, Inc., we know that our commercial clients' success depends on our rapid response to their call for service. For this reason, satisfied clients whose businesses involve selling perishable inventory rely upon us to keep their freezers and walk-in units humming 24 hours a day, 7 days a week. If your walk-in cooler goes down, or if you experience any other type of temperature control system emergency or malfunction, our industry-trained refrigeration specialists can quickly and capably address the problem. Feel free to can call on us anytime.
If you think your walk-in unit is showing evidence of a loss in cooling power, contact our Athens, AL office today to report an emergency or to schedule an appointment for an inspection of your cooler and all other refrigeration and temperature control systems you and your business relies upon.
Nor-Lake
Kolpak
US-Cooler